Winter Special: cycling, running & triathlon performance tests.
$50 discount for Enduro performance testing (inc VO2max)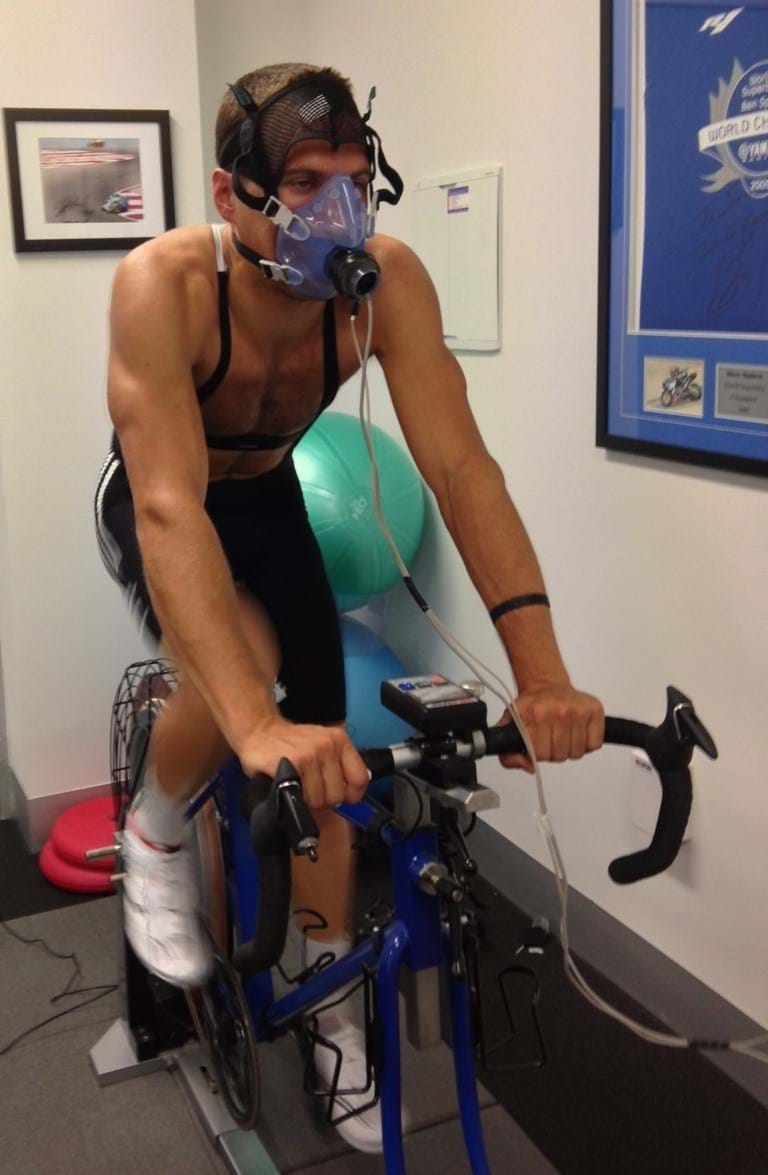 10th August, 2014 - Testing and monitoring during different phases of training & competition provides an excellent means of understanding athletes as unique individuals, and subsequently takes the guess work out of managing sustainable training loads.
Combined sub-maximal steady state & maximal oxygen uptake (VO2max) assessments provides valuable information about how individuals respond to interventions that effect performance, including training intensity and volume; tapering; heat and/or hypoxic exposure; changes in body composition; modified nutrition and/or hydration; illness, stress and injuries.
Precision data that is analysed during testing includes (& not limited to) oxygen consumption, ventilation, blood lactate, heart rate, rating of perceived exertion, power output (cycle), speed (running) & body fat content. Subsequently, we can calculate energy demands, economy & ventilatory threshold during exercise.
We provide guidelines to train & recover with precision and structure, commensurate with an individuals unique physiological profile at any given time. Furthermore, baseline data is also intrinsic when seeking solutions to problems that athletes may invariably suffer periodically; including, but not limited to training maladaptation or overtraining syndrome (click here > to read more).
Click here > to contact us & take advantage of a $50 discount for Enduro performance testing at Melbourne Sports & Allied Health Clinic. Our regular fee of $315 (inc GST) has been discounted to $265 (inc GST) during the period 15/08/14 - 15/09/14. Click here > to download registration form. Click here > to download medical questionnaire & informed consent.
Those with private health insurance with extras cover for exercise physiology may also be eligible for a rebate.
Enduro performance package includes;
hydration analysis
body fat composition
oxygen consumption at sub-maximal through to maximal workloads
energy expenditure at sub-maximal through to maximal workloads
blood lactate concentration at sub-maximal through to maximal workloads
ventilatory / anaerobic threshold
VO2max
heart rate analysis
rating of perceived exertion (matching up perceived with real physiological demands)
training zones
comprehensive report (results interpretation, practical application to training & competition)
Need inspiration? Here's a sample of events that some of our clients (beginners through to pro's) have recently conquered: Melbourne marathon; Melbourne ironman triathlon; Melbourne half-marathon; Shepparton half-ironman triathlon; Noosa triathlon; New York marathon; Hawaii ironman triathlon; Leadville 100 mile mountain bike; Leadville 100 mile run; World 24hr ultra-marathon; Mark Webber-Tasmania 5 day adventure race; NZ coast-to-coast adventure race; Mt Everest base camp hike; Wings for life World run; Bussleton ironman triathlon; London marathon; Melbourne to Warrnambool cycling race; 3 peaks cycling challenge.....& many other State, National & International cycling, running, triathlon events.